This is a harness to prevent the bothersome check engine light and DTC P0073 on Ford Superduty F250 F350 F450 trucks 2011-2016 after installing mirrors that aren't equipped (small mirrors or tow mirrors) with a temperature sensor. This listing comes with a jumper lead and a temperature sensor along with instructions to install on the passenger side.  This harness is compatible with Ford Superduty trucks 2011-2016.
Simply slide the pins into the passenger side connector in the correct location and turn the check engine light off! This often also prevents the air conditioning from working, so after you install this and clear the code the AC should resume working.
Link to installation video: https://youtu.be/AbmUpIhxkKk 
Customer Reviews
Write a Review
Ask a Question
04/26/2021
Dan H.

United States
Works great
After looking at it I could have got some wire and went to Napa and got the temperature sensor for 8 bucks and did it myself laugh out loud thanks though living in Wyoming in the winners it's kind of nice starting the truck before you go outside when it's negative 40, and I didn't have to take it to a shop to have the light turned off I just changed my tune in the truck from performance to extreme and it wipe the code out it might be something else people should look at instead of paying 200 bucks for somebody to clear the code for the engine light just run a new tune through your truck it'll clear the code to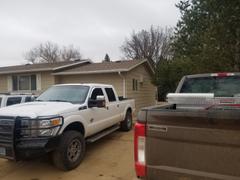 04/26/2021
Boost Auto Parts
Hi Dan, Our harness is equipped with the proper OEM terminals and connectors - unfortunately there are no other service harnesses available. Thanks, -The Boost Auto Team
04/22/2021
Walter C.

United States
Ford Superduty F250 F350 Mirror Temperature Sensor Harness (2011-2016)
Install was easy and check engine light is not on now.
works good, would have been alot better if it came with instructions on how to take apart the mirror so the sensor could be put outside the truck.