Reviews
Mirror Features:
GM Style Mirror Head Retrofit
Power Adjust Upper Glass
High Quality LED lights
LED Turn Signal on Glass (Red)
Integrated Rear Facing Puddle Light (Low Output or High Output)
Heated Upper Glass

Optional Heated Lower Glass

Optional Running Light Function
Optional Blind Spot Monitoring

Only for vehicles originally equipped

Different LED color options (Switchback, White, Amber)
Temperature Sensor
Manual Folding
Manual Extending Towing Mirrors (3 Inches)
Product Details:
Sold as a set (left & right side)
1-year Warranty
Item Condition: New
Free Ground Shipping (Lower 48 States)
Assembled in USA
Why Choose Boost Auto Parts?
The Claim: Proper Fit For 2019+ 1500 Trucks
The Competition: Mirror advertised to fit, but does not properly mount to vehicle and electrical functions do not work properly. 
Boost Auto:

 Correct base for 2019+ 1500 Ram's (different than 2500/3500) for proper mounting. Correctly configured electronically for Fifth Gen 1500 trucks. Custom wired and tested in-house to confirm accuracy. Temperature sensor pre-installed in the mirror. No check engine light after installation.
The Claim: Properly Wired
The Competition: After mirror install the truck lights (not just the mirror) malfunction, the dash displays error messages, & the signals hyperflash.
Boost Auto:

No error messages. No hyperflash. Always wired properly, guaranteed.
The Claim: Plug & Play Install
The Competition: One size fits all wiring makes installation difficult.
Boost Auto:

Mirrors are custom wired based on your truck to unlock as many plug and play features as possible.
The Claim: Forward Light Function
The Competition: Signal Only? Running light only? Many sellers claim one but do the other. You won't know until you put them on.
Boost Auto:

Switchback,

Signal & Running Light,

OR Signal Only
The Claim: Rear Facing Light Brightness
The Competition: Low Output
Boost Auto: High Output or Low Output
The Claim: Instructions
The Competition: No Instructions
Boost Auto: Detailed Instructions & Videos
The Claim: Technical Support
The Competition: No technical support, and customer service often speaks broken English
Boost Auto: Live & helpful American support. We know these trucks because we own these trucks!
The Claim: Serviceability
The Competition: No stock of parts
Boost Auto: A full range of parts stocked in our Illinois warehouse
The Claim: Quality Checks
The Competition: No quality checks. Imported from Asia & shipped directly to you.
Boost Auto: 100% quality checked & end of line assembled in USA.
The Claim: Warranty
The Competition: Claims of extended warranties, but denial of warranty claims or no response when issues arise.
Boost Auto: 1-year warranty upheld, with real technical support to get the problem fixed the right way the first time.
Frequently Asked Questions:
Are your mirrors plug and play?

Will my check engine light come on, or do these come equipped with the temperature sensor?

Do I need to have the vehicle reflashed after installation?

How do the forward facing lights work?

How does the rear facing spotlight work?

What color are the LED's when illuminated?

Where do I enter my paint code?

Are these mirrors equipped with camera?

If I purchase the signal & running light or switchback mirrors, do I need to purchase the dual function harness?

What is the difference between the low output flood and the high output spot light?

Are your mirrors power folding?

What vehicles do these fit?
Vehicle Fitment:
These mirrors fit a wide range of vehicles including the following:
2019 Ram 1500 
2020 Ram 1500 (DT)
2021 Ram 1500 (DT)
2022 Ram 1500 (DT)
Please check our catalog for other years and models.
Reviews
Customer Reviews
Write a Review
Ask a Question
05/17/2022
Kevin C.

United States
Love Them!
Product is top quality. Nice fit and finish. Installation was straight forward. I couldn't be happier.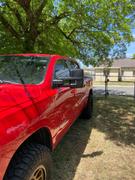 04/18/2022
Mark N.

United States
Amazing
I love the mirrors.. they are exactly what you need for your Ram truck.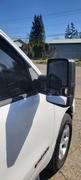 04/13/2022
Cameron N.

United States
2021 Ram 1500 Rebel
So far so good! Took about two hours to install myself. Easy to follow directions via YouTube video BAP has. I changed the name of my truck from "Batmobile" to "Dumbo" because they look like elephant ears but they look amazing. Overall, so far I'm happy with them! Can't wait until the power folding is released.